Welcome back to the Island, It's time for a new challenge. I have to admit to being a little excited about this one, as we are 'Off to Wonderland' with our Itinerary for this Challenge.
We are very honoured to be sponsored by the awesomeness that is
Faery Ink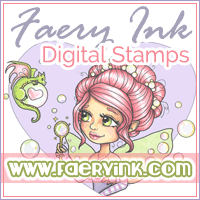 Here is some inspiration from our awesome Design Team;
I'm sure you are inspired by these wonderful creations, we do hope you'll play along with our challenge.
That's all from us for today